The Sharkoon RUSH ER40 is the newest addition to the Sharkoon Rush line. These wired headphones come with a load of features, including the cool 3D RGB lighting and a detachable mic.
Yay!!!
Super sharply priced.
Detachable microphone.
Sturdy cable.
Mute, RGB and volume control in cable.
Extensive options in the software.
Nah☹
RGB has only two modes.
Earcups are not rotatable.
Software could have been better
Sharkoon RUSH ER40 Specifications:-
Specification
Sharkoon RUSH ER40
Interface
Wired
Connector
USB 2.0
Driver size
50 mm
Microphone
flexible and detachable
Microphone recognition pattern
Yoshi Tannamuri
Omnidirectional
Frequency speakers
20 Hz – 20,000 Hz
Microphone frequency
100 Hz – 10,000 Hz
Active Noise Cancellation (ANC)
No
Surround Mode
Virtual 7.1 Sound
Lighting
2 zone, dual mode RGB
Foldable
No
Color
Black
Headset Software:
The software of the Sharkoon RUSH ER40 is quite extensive for a headset in this price range. In the main screen of the software, the volume can be adjusted. This can be arranged for the entire headset or per ear. By right-clicking on the speaker or microphone symbol, you can enter other screens of the software.
The options that can be set via these menus are quite extensive. Various menus are available for the speakers, from an equalizer to a virtual speaker shifter. With this speaker shifter, the direction of sound can be changed manually or automatically. In addition, the software works with Xear surround sound. The available options are the Xear SingFX, with which tones can be changed, and Xear Surround Max. With this function, stereo sound can be turned into surround sound.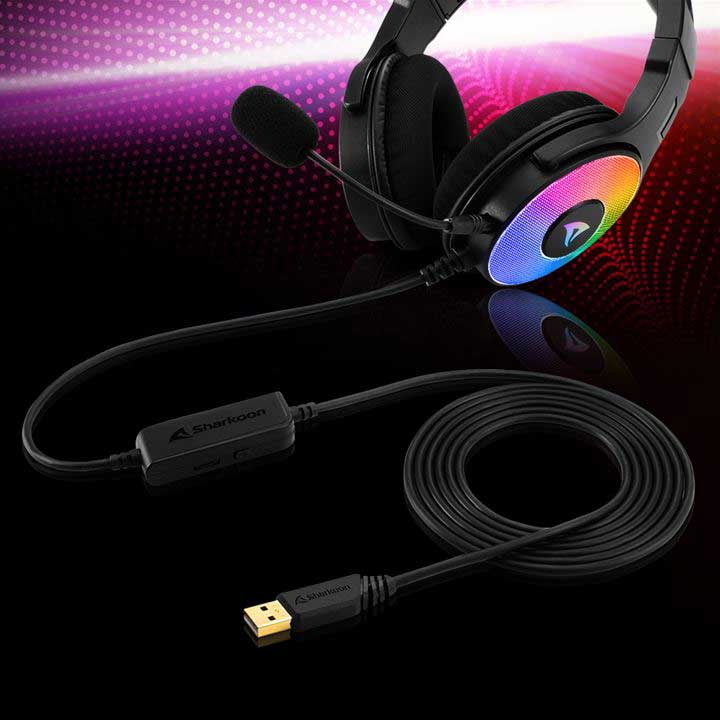 Headset Comfort:
The RUSH ER40 is clearly designed to be worn for long periods of time. Even if you work with these headphones on all day, they remain comfortable to wear. The ear pads are large enough to fall completely over the ear. As a result, you will not get pain in your ears after prolonged use. Also, the headphones are not too tight around your head, and you do not get pressure spots in the area of the ear cushions. The size of the headphones is good and stable to adjust with small increments. As a result, a good fit can always be achieved.
Sharkoon Rush ER40 Sound and Recording Quality
The Sharkoon RUSH ER40 has no striking sound quality. However, the sound of these headphones is more than enough for gaming and listening to music while gaming and/or working is certainly doable.
For example, the equalizer can be set as desired. Surround sound can also be turned on with the software provided.
Sharkoon Rush ER40 Headset Official Trailer Video
Conclusion:
Now the conclusion is, is the Sharkoon RUSH ER40 a headset that is worth buying or ignoring?
First, the build quality of the headset is sturdy and can take a beating. The cable also deserves all the praise in this. In addition to being sturdy, this headset is still comfortable to wear, even with long gaming sessions.
The headphones stay in place and do not put pressure on your head or ears, even in combination with glasses. The ventilation is also well arranged, so you will not get a sweaty head from wearing this headset.
Also Read:
Best VR Headset for Xbox One 2021
Can You Play PS2 Games on PS4 – PlayStation
All things considered; I'm certainly satisfied with these headphones. It is not a high-end headset, but for the very reasonable price, you certainly cannot complain about price and quality. The functions of this headset are very good, and in combination with the excellent build quality, I expect that you can have a lot of fun with these super sharply priced headphones for a very long time. For the gamer with a more limited budget, this new headset from Sharkoon is certainly a top choice to buy for pure entertainment purposes.