The most popular SEO software "Ahrefs" will introduce its own search engine, named "YEP". And more things to know about Ahrefs tools software are building links, keyword research, competitor analysis, rank tracking, and site analysis or investigation. One more point about Ahrefs is it is specially designed for professional marketing.
A notable Point about Ahrefs SEO software tool is handled by many blogging or content websites to get a higher rank in Google Traffic.
Let's move on to our new search engine Yep.com topic…
Yep.com Investment
First of all, Ahrefs software invested $60 million without external investment and the company depends on upcoming subscriptions paid from the users for re-investment. The company demands $100 million worth of revenue per year from its market users or customers, almost 50,000 current users not exactly.
Ahref Company
This company Ahrefs has 90 intelligence employees total and its headquarters are located in Singapore. From that total employees separate 11 top-notch employees including front-end developers, backend developers, and data scientists working on their own search engine venture project. And one interesting matter here is this company Ahrefs company CEO "Dmytro Gersymenko" also engaged with this project personally.
Simple-Talk about this three-letter or character (Yep).com formation:-
Yep is derived from the Chinese community in the United States of America and its actual meaning is Page, Historical period brief notes. This is the evidence or fact about this three-letter word derivation. And it seems elegant and pleasant to compare with Bing (Accidental Search Engine for all).
Associate Partners of this Ahrefs:-
Ahrefs Yep.com is going to make a raw track through the internet world of advertising, claiming, and more, and through this search engine plan they are decided to give 90% of advertisement revenues to his partnership holders "Good Quality Content author".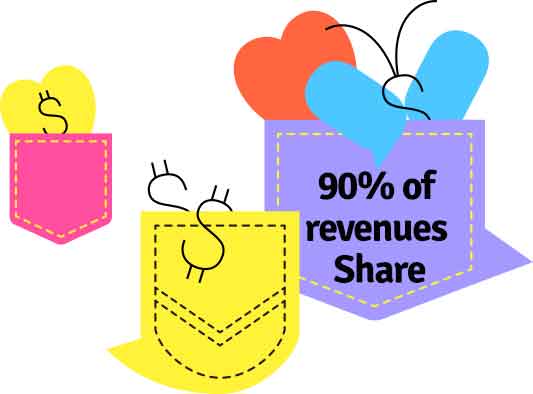 Let's visualize that the world's biggest search engine makes around $100 to $111 billion per year and that they will give $90 billion to quality content writers and publishers. It totally changes the content creators or author's market esteem.
This prominent SEO tools software Ahrefs has spun up its own data centers and they already spun up 1000 more servers to store more than 100 petabytes of input or data. Ahrefs CEO planned for cloud-based solutions for his search engine guests or users to strike content instantaneously. And his upcoming goal is to run hundreds to thousands of high-end servers to sport 24/7 functionally.
Also Read:
How To Change Search Engine From Yahoo To Google – Web Browser
Is Ecosia Legit | Is 100% Non-Profit Organization – Search Engine
Yep.com Disadvantages:
Now Ahrefs software tools SEO solution only launched the Beta Version of his search engine in the market for testing purposes and it might be slightly slower than current massive search engines like Google, Bing, and more. By this testing season, they will fix those bugs clearly and it might come up with an optimized version.